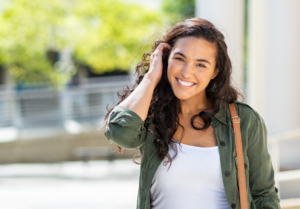 If you are worried about misaligned teeth, we can help! At Summer Dental, we want you to have a beautifully straight smile without the hassle of traditional braces. Our goal is to provide even, straight teeth that can help you feel confident about your smile again.
Why Should I Use Invisalign® Aligners?
Straightening your teeth can seem like a major inconvenience, but we want to change the way you think about braces. If you are a good candidate for clear aligners, the Invisalign® system can provide the orthodontic treatment you need.
Many of our patients choose Invisalign® for one or more of the following reasons:
Invisalign® braces are comfortable. The trays are made from a smooth material, so you won't have to worry about metal wires and brackets rubbing against your mouth.
The aligners are virtually invisible. The clear braces won't draw unwanted attention to your mouth, and your friends and family may hardly notice you're wearing them!
The clear trays are removable. You can continue to eat the foods you love without worrying about damaging your braces. You also won't need to worry about special teeth-cleaning tools.
Our patients love Invisalign® braces because they take the worry out of orthodontic treatment. Instead of coming in for adjustments, you'll come in to pick up a new set of trays and the Dentist can check to see if your aligners are working correctly.
What to Expect During Treatment
Our Dentist will perform an evaluation during your consultation visit to our office. Once you are approved for the treatment, we take digital impressions of your teeth and send them to a lab. After your customized aligner trays are finished, you can come pick them up at our office. We work with you every step of the way. Our team will show you the correct way to wear your new aligners and how often you should change them. Your total treatment time will depend on the severity of your case and if you wear the aligners for at least 22 hours a day.
Gain Your Confidence Back
You don't need to worry about traditional metal braces to straighten your smile. With Invisalign aligners, you can still enjoy a confident smile throughout your treatment. Once your treatment is finished, you'll be ready to show off your stunning new smile!
For Straighter, More Even Teeth, Call Our Office Today!
We love helping our patients improve their smiles! If you are looking for a way to straighten out your smile, call our office today to schedule a consultation. We look forward to meeting with you.